ASI and Cabur®, A 21 Year Partnership Working for You
​ ​

Cabur® is a leading supplier of industrial connectivity, automation, control and power solutions with a successful history of over 65 years internationally. Automation Systems Interconnect, ASI, is proud to be the supplier of Cabur® products in the North America market for over 21 years. The portfolio of high quality innovative products from Cabur® includes terminal blocks, power distribution blocks, control relays, power supplies, signal conditioners, connector interface modules and industrial printing systems. ASI maintains inventory of all Cabur® products in Mechanicsburg, PA and offers technical support and customer service for all your Cabur® product requirements.​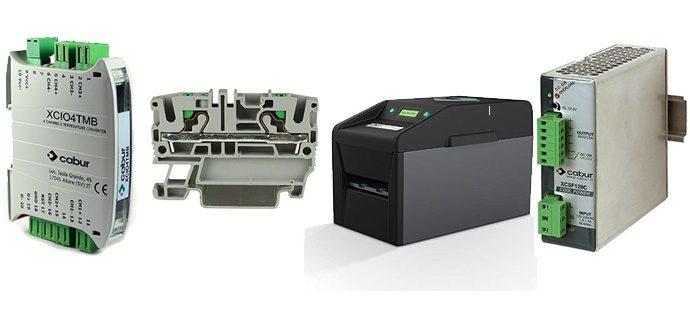 A summary of the vast product lines from Cabur® includes:

Cabur® Terminal Blocks

Since 1952 Cabur® has been a leader in the development, design and quality of DIN rail mounted terminal blocks. Evolving customer applications, technological developments and environmental considerations has led to a broad range of Cabur® DIN rail mount terminal blocks to meet our customers demand. They include:
CBD Terminal Blocks: The Cabur® CBD series of screw clamp terminal blocks have been a flagship in the industry for over 50 years. Boasting a robust design the Cabur® CBD terminal blocks feature a full nickel plated copper alloy metal body, captive screws, large funnel wire lead in and UL94V0 flammability rating. Approvals for the Cabur® CBD terminal block includes cUL, Exe, ATEX, KEMA, RINA, and Terna. You can find parts of the CBD series here.
CBC Terminal Blocks: The Cabur® CBC series of DIN rail screw clamp terminal blocks address the need for a high quality terminal block at a more competitive price but with outstanding features. The Cabur® CBC terminal block features a dual bridging or jumper slot that accepts an easy to install push in jumper. This unique design feature allows for consecutive or alternate circuit jumpers giving you design and installation flexibility. The CBC Cabur® terminal blocks have all the international approvals including cUL for North America applications. You can find our CBC offerings here.
HMM Terminal Blocks: Cabur® has a huge range of spring clamp DIN rail mount terminal blocks with the HMM series that includes single level, double and triple level, fuse, disconnect and ground terminal blocks to name a few. The Cabur® HMM series of terminal blocks accept the easy to install push in jumpers and like all Cabur® terminal blocks carry all the necessary approvals. In addition to providing individual Cabur® terminal blocks, ASI offers custom rail assembly of the HMM series and all other DIN rail terminal blocks. Data sheets, part numbers specifications and pricing on the Cabur® HMM series can be found by clicking the link.
EFC Terminal Blocks: The latest development of DIN rail mount terminal blocks from Cabur® is the NEW EFC, Easy, Fast, Connection series. The Cabur® EFC terminal blocs feature the latest technological development in spring clamp terminal blocks that provide the user the ability to push in the wire without the need of a tool. Solid wires and stranded wires equipped with a ferrule can be simply pushed into the terminal block for a fast reliable connection. The NEW design of spring clamp terminal block features a green actuator to open the terminal for insertion of stranded wires or to remove wires. The Cabur® EFC terminal blocks are a sure way for you to save time and money with all your equipment and panel wiring requirements. See the complete range of Cabur® EFC terminal blocks here.

Cabur® Power Supplies

Cabur® is a 'powerhouse' when it comes to the design, manufacture and supply of DIN rail mounted power supplies. Since 1997 Cabur® DIN rail mount power supplies have set the standard for features, quality and reliability. With over 100 models available from 15W to 2400W, single, split and three phase, DC-UPS, DC-DC converters and with Modbus RTU communications, Cabur® power products can address any application. Cabur® power supplies are UL508 Listed, feature short circuit, overload, input and output protection and are designed to provide up to a 150% power boost. Browse all of the power supplies we offer here.
The Cabur® power supply and power products include:
XCSD Series: The Cabur® XCSD Power supplies are compact, low profile DIN rail mount power supplies with a power output level up to 70W. The XCSD power supply range features a wide range input, 90-264Vac, 12 & 24Vdc output, and the Class 2 isolation means no need for a ground connection saving you time and money. With a low profile housing the Cabur® XCSD power supplies are ideal for shallow enclosures such as what are typically found in pump controls.
XCSF Series: The Cabur® XCSF DIN rail mount power supplies are one of the best industrial grade power supplies on the market with a range from 30W to 480W and voltage outputs of 12, 24, and 48Vdc. The XCSF Power supplies feature a compact design, pluggable connections, power boost up to 160% and high efficiency operation. The Cabur® XCSF power supplies are UL508 Listed and are ideal when your application calls for a robust, reliable DIN rail power supply. For example the XCSF120C is one of the most reliable 5 amp, 120W, 24Vdc power supplies on the market.
XCSL Series:The Cabur® XCSL series of DIN rail mount power supplies has been designed to meet the needs for an economical power supply with features to meet general industrial applications. With a range from 72W to 480W in either single phase or three phase input the Cabur® XCSL power supplies are available with 24Vdc, 48Vdc and for DC motor applications 72Vdc output. The 3 phase models of the XCSL Power supplies are available in a model that features Modbus RTU communication.
XCSW Series: The Cabur® XCSW Power supplies are uniquely innovative as they can be used with single phase, split phase and three phase for the input voltage, 185-550Vac. The XCSW DIN rail mount power supplies are available from 120W to 960W with 24, 48 and 72Vdc output voltages. The XCSW power supplies feature pluggable connections, up 150% power boost and high voltage components for heavy industrial applications.
XCSG Series: The XCSG 3 phase input DIN rail mount power supplies from Cabur® are available from 480W to 2400W with voltages of 24, 48 and 72Vdc. For DC motor applications Cabur® offers 3 phase power supplies with 72, 85 and 110Vdc outputs. Power boost up to 150%, adjustable output, programmable, short circuit and overvoltage protection are just a few of the features found in the Cabur® XCSG three phase power supplies. The XCSG2401, 100Amp, 24Vdc, is one of the most innovative programmable power supplies on the market. The XCSG2401 is available in 12,24, 48, 72 and 100-170Vdc output. The user programmable onboard microprocessor provides customers with an incredible list of functions to address any application.
XCSA Series: The Cabur® XCSA DC/DC converters are 12-24, 24-12, 24-24, 48-24 and 110Vdc to 24Vdc models. The XCSA DC/DC converters feature a compact design, DIN rail mounting and protection circuits that include short circuit, overload, input and output and over temperature.
XCSC Series: The Cabur® XCSC is a fully integrated power supply with built in DC-UPS capability. The XCSC allows you to supply power to your load while at the same time charge a battery. The output of the XCSC AC/DC UPS is either 12Vdc or 24Vdc depending on the model with 5A or 120W output. With a compact design and DIN rail mounting you can understand why the XCSC power supply is so popular.
XCSU Series: The Cabur® DC UPS XCSU family of DC UPS products are compact,, DIN rail mount and carry a wide range of features. The XCSU DC UPS units are available with 12, 24 and 48Vdc output, 120 and 240W and with Modbus RTU communication depending on the model. These microprocessor controlled DC UPS units carry many more features and ideal for demanding industrial applications.
Additional Power Products: In addition to Cabur® Power supplies, DC UPS, DC-DC Converters ASI offers a wide range of battery chargers, battery packs and holders, redundancy modules, and communication interface modules for Modbus RTU communication.